Fantasy 16 piece Makeup Brush Set
This product is currently sold out.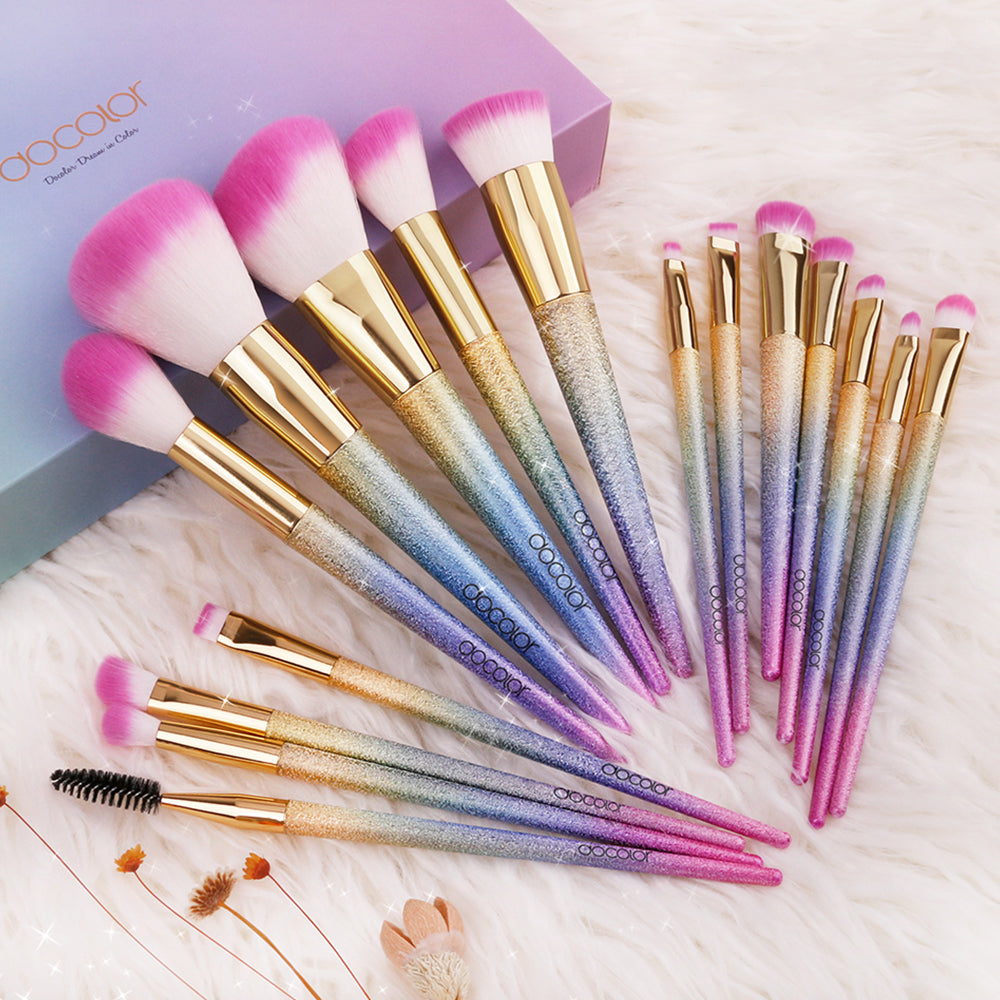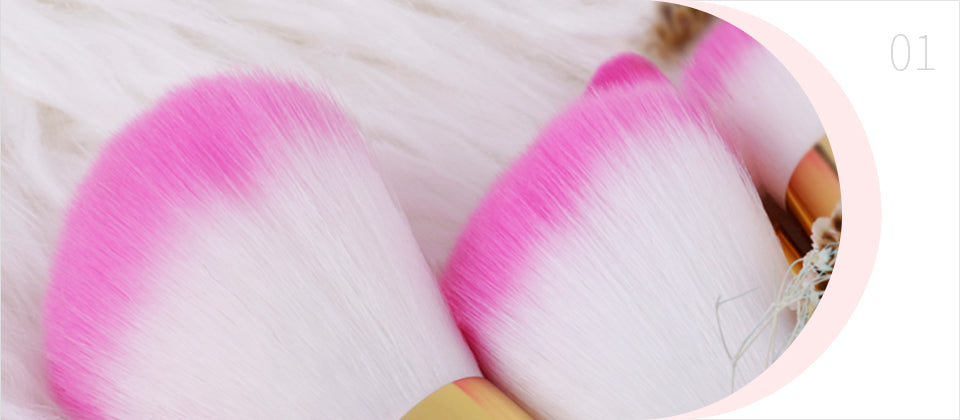 Quick-drying fibrous hair
White with pink hair, dreamy and colorful, fibers bent into waves, soft and tough. The fiber's head is refined to provide a soft and comfortable touch.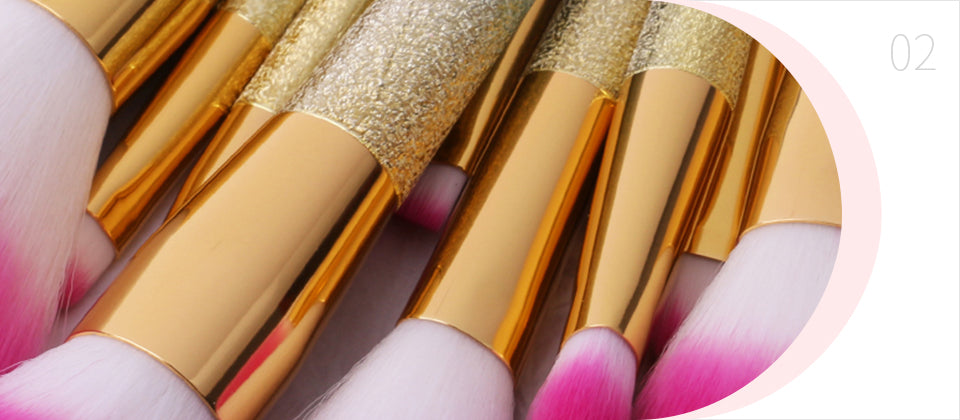 Aluminum tube
Golden glossy aluminum tube.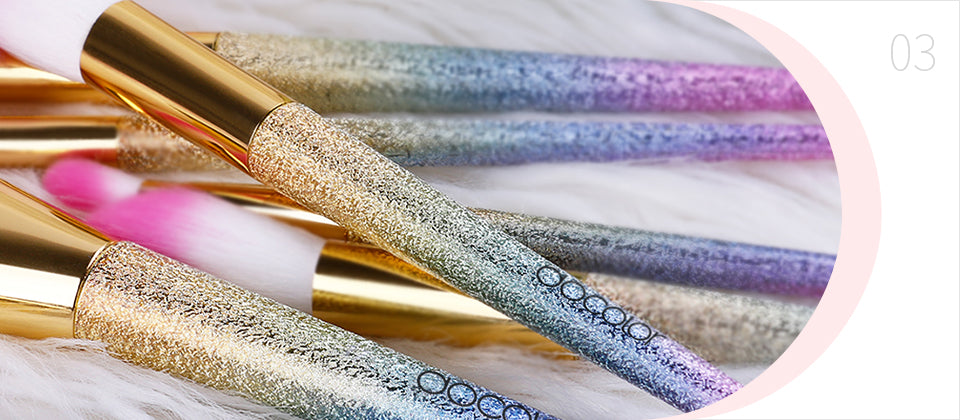 Creative brush handle
Grainy handle for added comfort. Exquisite and durable fine craftsmanship shows your taste life.

01 Powder brush
Expertly sweep on blush, bronzer, and finishing powder.

02 Angled Blush Brush
Perfect for buffing in contour or depositing blush on the apples of the cheeks.

03 Highlight Brush
The brush can be used to do blush and highlighter.

04 Contour Brush
Shaped to define the forehead and cheekbones.

05 Flat Kabuki Brush
Apply liquid or cream products such as foundation and primer.
06 Smokey Brush
Synthetic hair. Smudge darker shades of a smokey eye look.

07 Blending Eye shadow Brush
Apply or combine shadow shades.

08 Angled Eyeshadow Brush
Used to brighten eye base or highlight, large paint coverage.

09 Eyeshadow Brush
Packs on eyeshadows & shades and works for any area of the eye.
10 Concealer Brush
Use it to apply concealer on the eyelid.

11 Eyeshadow Brush
Packs on shades in small areas.

12 Flat Definer Brush
Delivers sharp lines with creamy eyeliner.

13 Angled Eye Brow Brush
Use it to apply liner with precision.

14 Lip Brush
Use it to define lips, soften pencil lines and apply color.

15 Lip Liner Brush
Use it to apply lip liner with precision.

16 Brow and Lash Brush
Use it to shape and groom brows into perfect arches.
---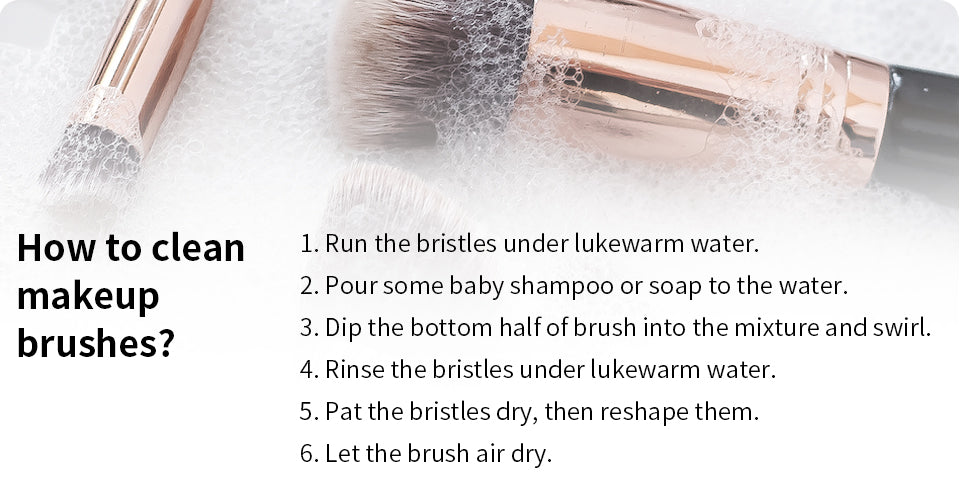 Makeup brushes
They are very good and very soft I love them
Best for the price! Saying in my collection
I love theses! They're affordable and come with a great range of brushes to do a full face of makeup. Most other affordable sets won't come with smaller fluffy blending brushes for the eye but this set has a great one.
Adorable, Effective, and Reasonably Priced
I bought these for my 17 year old daughter for Christmas. Not only are they beautiful, but these are the softest brushes we've ever touched, and they work great. EXCELLENT value!